Magento 2 Gift Card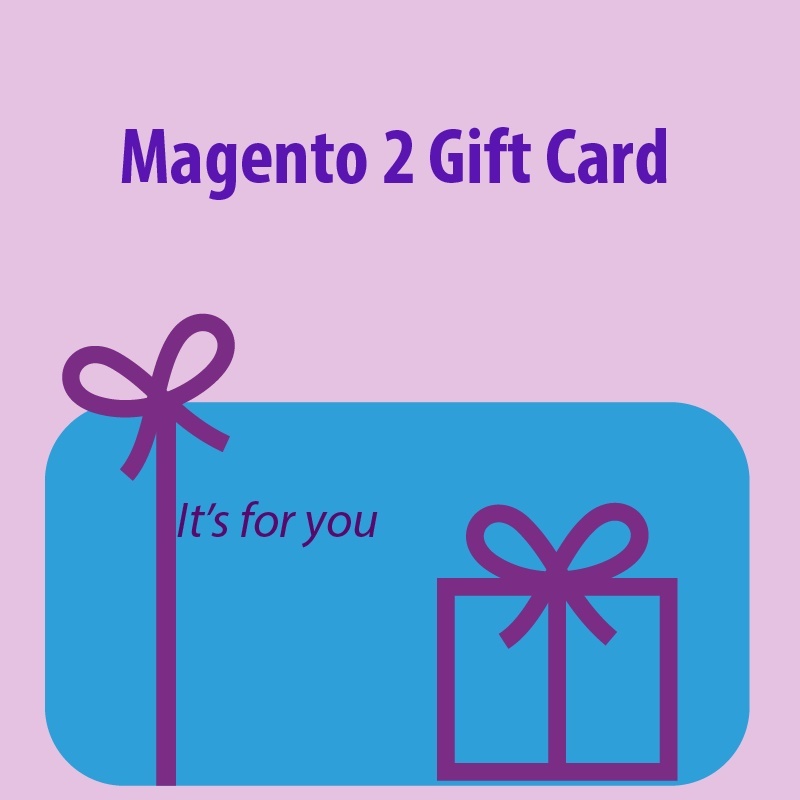 ---
1. What is Magento 2 Gift Card extension?
Magento 2 Gift Card is a useful Magento 2 extension that helps you increase the revenue and profit of your Magento 2 store.

Gift card for Magento 2 allows creating unlimited gift cards for online selling with your own gift card templates that you can add with 3 template designs. Besides, this Magento 2 extension also allow you manage gift card codes that you can create the codes with patterns you need.

In addition, Magento 2 Gift Card allows your customer buy gift card to use or give to their friends or relatives who is your potential customers of your store in the future. All gift card codes they have can be use directly by copy and paste the code in payment or redeem to credit amount of the gift card to your customers' account in your store.

Thus, Magento 2 Gift Card extension is a useful tool for your store to find new customers and brand your store. 
2. What the best features of Magento 2 Gift Voucher extension by Cmsideas?
- Support e-gift card and physical gift card

On creating gift card product, the store admin can specify the gift card settings as your requirements and set options for your customers to choose on product page. With type of gift card, the store admin can define the gift card is either sent via email of receiver as an e-gift card or delivered to receiver address as a physical gift card by configuring the types from one of three options: virtual, physical or combined product.

- Create gift card in various types of price

Magento 2 gift card allows the admin store to choose one of 3 types of price: fixed price, price range or price dropdown to set the price as well as the value of the gift card product.

- Customize gift card with optional image, messenger and value of card

On purchasing, Magento 2 Gift Card allows customers either choosing the default gift card template or uploading their own image for the gift card easily by drag & drop file function. Moreover, this Gift Card extension also let your customer to set the date to send the gift voucher and type a message to their relatives or friends.

- Use gift card right on Magento 2 store

Gift card as well as gift voucher can be used right on Magento 2 store for the payment. There are 2 ways that customers can choose to use gift card code:

* Copy the gift code. Then paste in the gift code box when checkout.

* Redeem the gift card. Then the amount of the gift card credits to the account of customers. The credit is used for each purchase your customers make in your store until it's gone.


3. What benefits can you – the store admin claim by using Gift Card extension for Magento 2 webstore?
- Improve sales by encouraging customers to buy more

Be different from other products, gift card products are easily and quickly purchased by customers without any more considerations such as quality, color, size or materials,... The customers only need to define value of the gift card then take checkout process to buy it.

Besides, with the amount redeem with the gift code, unlike coupons, the customers will feel they have money to spend immediately and do not waste more money on shopping.

- Increase brand awareness

With all gift card products created, you can insert your store's logo and brand to display on the card. So that, not only the customers who purchased on your store but also their relatives who receive the gift card as a gift on the special occasion will get to know about your brand. And more in the future, your brand will be familiar with them and even they will "fall in love" with your brand.

- Attract new customers

Not simple as a normal product, gift card can be efficient tool for you to get more new customers. By gift card, your existing customers can take more people that their friends, their family, their relatives to your store to use, to redeem gift voucher code and purchasing on your store that become your new customers.

- Build customer loyalty

Getting loyalty customers as well as long-term customers is very essential to develop a stable business. Providing gift card, as well as bonus or coupon for certain amount of purchasing, or total of an order, your customers are more likely to come back to your store to buy, use the gift code and get more satisfaction on the store. 
4. What benefit can you brings to your customers with Magento 2 Gift Card?
- Get best gift to give to the relatives

There's not much that can't be bought, people can give gift card to their relatives who get to choose their own gift by using and redeeming the gift card code. So that, it can be said that gift card is the perfect gift for those who are picky.

- Save money on shopping

The fact that in many store, especially online business, for spending that reach to a certain amount, customers can get discount on total or in the next purchasing or get free on shipping. So that, in case their orders can reach the point, they can buy a custom value gift card that they do not waste money and still get benefits on purchasing.

- Be convenient on shopping online

By using Magento 2 Gift Card extension for the webstore, your customers can use gift card by redeem gift card code. But unlike to coupons, in case the spending total is less than the gift card value, they can use the left value in next shopping on the store. Besides, the extension for Magento 2 also allows customers to check the account's gift card balance right on the website to get to know how much is left before shopping.

SUMMARY
With all the features and benefits of Magento 2 Gift Card above, why don't you try and use it for your Magento 2 store?

DEMO FRONTEND: http://demos.magextstore.com/v216/
DEMO BACKEND: http://demos.magextstore.com/v216/admindemos/
DOWNLOAD: http://cmsideas.net/magento-2-gift-card.html
MORE EXTENSION: https://cmsideas.net/magento2/magento-2-extensions.html
Related Articles
---
---
×
Thank you!
Will be posted after admin approval.