Better WP Security
Views: 1050
Added Date: 29 November 2013
Bit51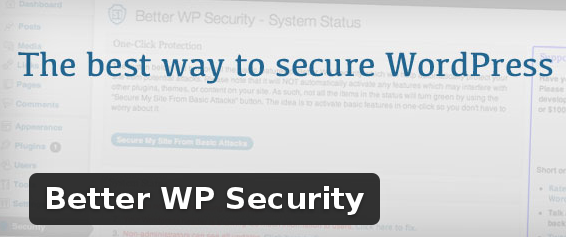 CMS: WordPress
Version: 3.6
Type: plugin
Extension Topic: Admin Desk
---
#1 WORDPRESS SECURITY PLUGIN

Better WP Security takes the best WordPress security features and techniques and combines them in a single plugin thereby ensuring that as many security holes as possible are patched without having to worry about conflicting features or the possibility of missing anything on your site.

With one-click activation for most features as well as advanced features for experienced users Better WP Security can help protect any site.
Professional Installation and Support Now Available

Obscure

As most WordPress attacks are a result of plugin vulnerabilities, weak passwords, and obsolete software. Better WP Security will hide the places those vulnerabilities live keeping an attacker from learning too much about your site and keeping them away from sensitive areas like login, admin, etc.
    Remove the meta "Generator" tag
    Change the urls for WordPress dashboard including login, admin, and more
    Completely turn off the ability to login for a given time period (away mode)
    Remove theme, plugin, and core update notifications from users who do not have permission to update them
    Remove Windows Live Write header information
    Remove RSD header information
    Rename "admin" account
    Change the ID on the user with ID 1
    Change the WordPress database table prefix
    Change wp-content path
    Removes login error messages
    Display a random version number to non administrative users anywhere version is used
Protect

Just hiding parts of your site is helpful but won't stop everything. After we hide sensitive areas of the sites we'll protect it by blocking users that shouldn't be there and increasing the security of passwords and other vital information.
    Scan your site to instantly tell where vulnerabilities are and fix them in seconds
    Ban troublesome bots and other hosts
    Ban troublesome user agents
    Prevent brute force attacks by banning hosts and users with too many invalid login attempts
    Strengthen server security
    Enforce strong passwords for all accounts of a configurable minimum role
    Force SSL for admin pages (on supporting servers)
    Force SSL for any page or post (on supporting servers)
    Turn off file editing from within WordPress admin area
    Detect and block numerous attacks to your filesystem and database
Related Articles
---
---
×
Thank you!
Will be posted after admin approval.