SEO Plugin by SQUIRRLY
Views: 1084
Added Date: 02 December 2013
Squirrly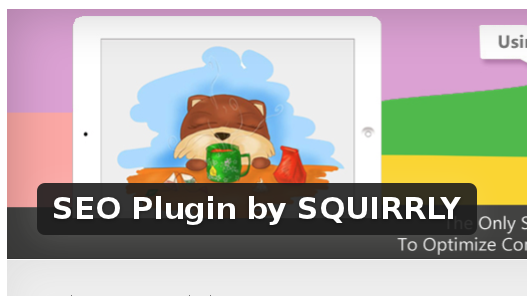 CMS: WordPress
Version: 3.2
Type: plugin
Extension Topic: SEO & Metadata
---
Lets Face It. SEO is tough. How does Squirrly take the hard work out of SEO?


    Gives You SEO Advice as you're typing your articles. Squirrly helps you in real time to optimize your articles to 100%, while you are writing or editing them.
    Optimized articles get +285% traffic, on average (real statistics from over 16,500 people who participated in the survey).
    Finds you Keywords and Topics that your Customers actively search for and which will help you out-rank your competitors, not just follow them around
    The algorithm for Keyword analysis takes into accounts elements that will help you find suitable keywords for content optimization: for Humans and for Search Engines.
    Tracks all the aspects of your Content Marketing Strategy: Blogging, Traffic, SEO, Social Signals, Links, Authority. Every single week you get a report by email.
    Send the Audit report by email to your content writer, SEO person, developers, etc.
    It Gives You Professional Advice on How To Fix any of those areas that it helps track, so you can easily find out how to improve. Content from SEO Moz (recently just MOZ), Google, Authority Labs, etc.
    Monitors Your Progress, week by week. You'll get interesting data about the historical performance of each article you write.
    Analyze any single article. See how it improves over time.
    Optimize Your Content for Humans. We've recently added tools and lessons (free of charge) that will help you optimize all of your Content for Humans, not just for search engines.
    Stay up to date with your SEO and Social Signals, with our Email Alerts. We send out email alerts if something on your wordpress site needs immediate attention, so that you can act upon it and save your business the trouble.
    Free Images that You Can Use.
    Social Intelligence through the Inspiration Box, to help you write better content, by showing you recent tweets about your subject, how other journalists and bloggers have approached your topic. All of this in your "Add New Post" interface.

You Only Pay Us If You Love Us. Otherwise You Can Use Squirrly for Free.

You'll start with the full version of Squirrly. If in 14 Days, you decide you love to get all the benefits from Squirrly, you pay for it (Pricing Plans below). If not, then you will continue using the Free Version of our Content Marketing tool, no questions asked.
Related Articles
---
---
×
Thank you!
Will be posted after admin approval.