Top booking themes for Real Estate
Joomla
Views: 243
Added Date: October 29, 2019
Marina

Top booking themes for real estate
In our world of technology most people using the internet in their search for a new real estate. Researchers says that more than 81% of people use the internet choosing real estate. The main priority for them is to optimally quickly and comfortably make their choice. Real estate website should containe the most detalied information of various types of housing,such as: houses for sale, houses for rent, prices, finding a real estate agent or realtor and more. Whether you`re the owner of the site or an ordinary user, the resource should be convenient for the both of you.
In this article we will discuss the 10 most best booking templates of different companies, for creating your own real estate site. Regardless of which aspect of real estate a website represents, real estate site needs a set of assential features that are unique to the industry. Additionally, with growing dynamics more shoppers use the mobile devices a successful site should be mobile.
Jomla real estate Templates
Special Joomla real estate themes has a full set of spacialized selected exclusively according to the needs of the real estate agents. The user can expect that these templates are equipped with all required functions connected to real estate for easy and comfortable use.

1.Template Joomla reale estate Luxury Apartmets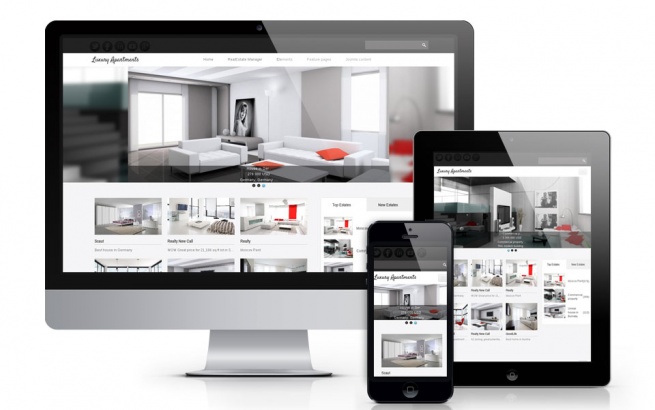 Luxury Apartmets is a great choice for true connoisseurs of beauty and chic in reale estate website templates. This Joomla 3.9x template will help to make your website really luxurious. You don`t find there nothing superfluous, only carefulled designed layouts with restrained colors, classic and refined style and exqusite fonts. Responsive design make it suitable for major mobile devices and tablets, so yuor real estate website will be mobile friendly and look great on different screen sizes.
Luxury Apartmets joomla template is compatible with the following browsers IE 9+, Firefox, Safari and Chrome.
Real Estate Manager component PRO, provides powerfull functionality and ample opportunities for creating the best real estate listing website. There are all necesary layouts to create real estate website like all categories,single category,all properties with three different views — grid, list of map layout,my properties (for creating frontend administrator panel) frontend property submission form,forms for rent and sale properties contact form with agent. Apart from Real Estate Manager component, Luxury Apartments Joomla template is enhanced with modules and plugins for REM. Thus is template there sre functionality for displaying featured houses, search properties by a range of criterias,location map functionality (integration with Google Maps) and much more.
With OS Joomla Blank Template that comes as a part of Luxury Apartments, you`ll be able to control style of links, body color, body pattern, choose suitable Google font, insert tracking Google code and your own copyright.
Get this a beautiful real estate website template or grab the entire collection of 20+ ready-to-use and responsive real estate Joomla templates in Standart membership plan.

2. Template Joomla CCK Real Estate booking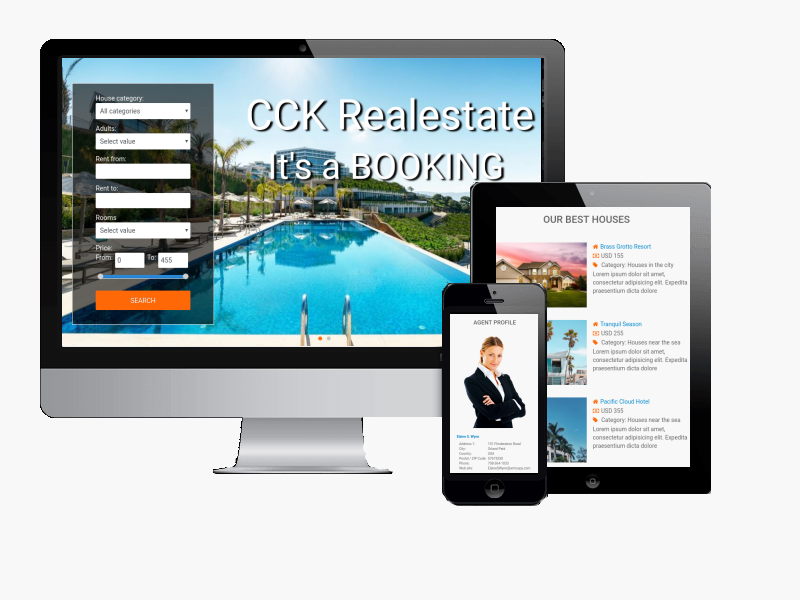 CCK Real Estate Booking — is a full ready Joomla site. We show you how we see Booking for real estate. We take our best components and modules and created Booking site. You`ll not find anything unnecesarry there, thought-out layouts such as showing one intense, showing celect intances, the last intancess added. A simple and convenient searc will allow you to find the property you need, and an anvanced search will allow you to select the ideal optionfor the most minimal criteria. Responsive design make it suitable for major mobile devices and tablets, so your real astate website will be mobile-friendly.This site will userfull for real estate agent, real estate companies, real estate brokers and indavidual estate agents.
To CCK Real Estate Booking we included:
• Component Content Construction Kit for Joomla (OS CCK)
• Joomla Images Touch Slider Module
• Component Jomla Responsive Images gallery
• Component Joomla Simple Membership
• Joomla comment and sharing module
• OrdaSoft Joomla Blank Template

3. Joomla Real Estate Template-Hot Real Estate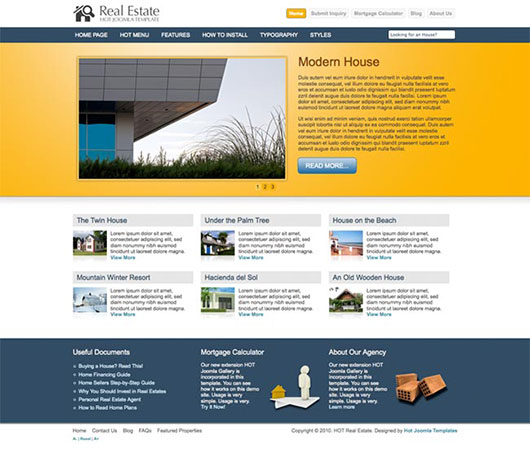 This is Joomla real estate template, and, as its name says, suitable for real estate agent and for realty company website development. It`s powered with our new Hot Joomla Carousel module (PRO edition) which is handy for Joomla articles rotation, in this case for presentstion of featured real estates. In addition, as you can see on inner pages of Demo,we included Hot Photo Gallery plugin.It will help you to easily add multiple photos of real estates and make slide shows in minutes.

4. ET Real Estate—Free Responsive Joomla real Estate Template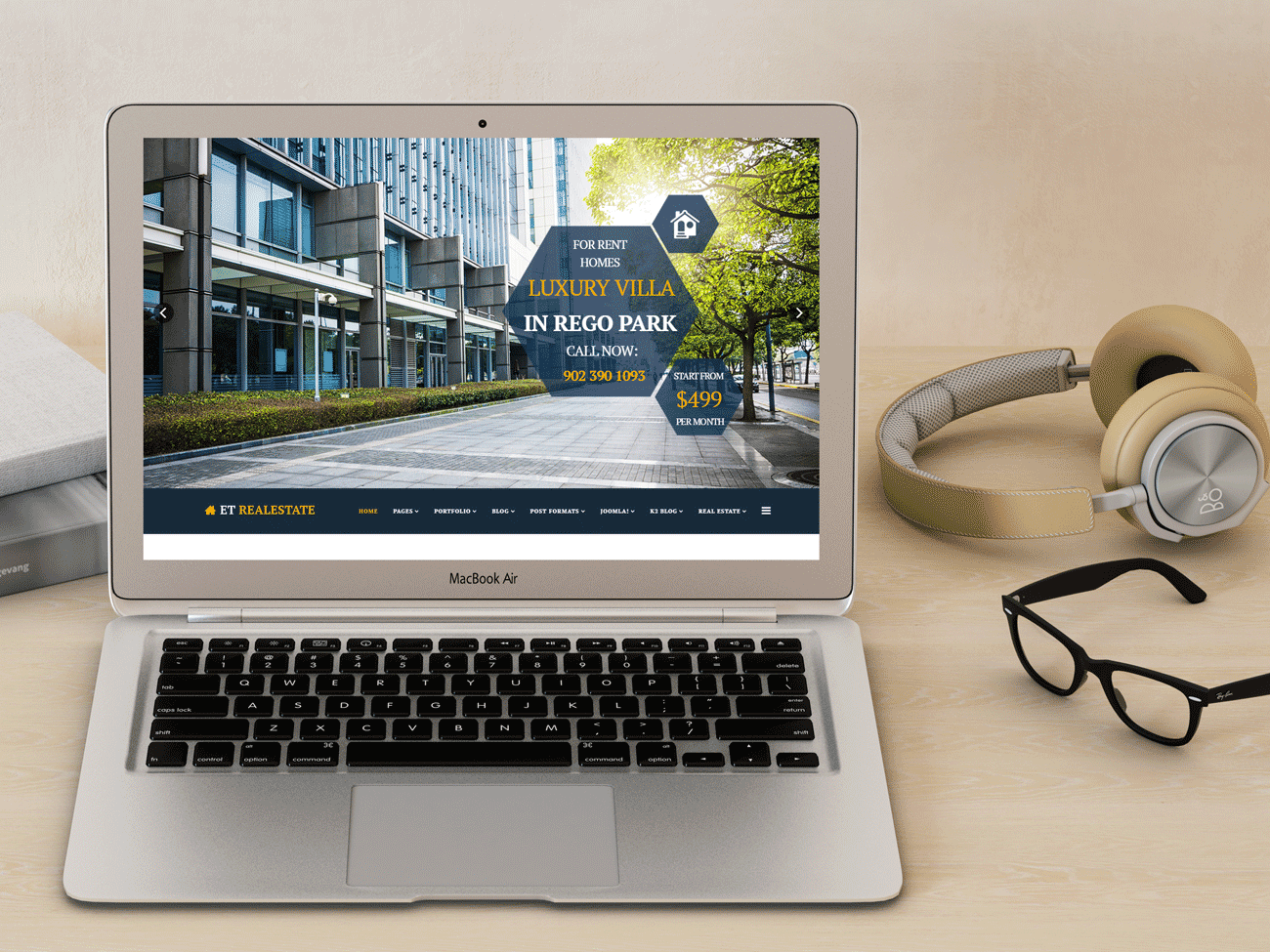 Real estate is a responsive Joomla template that targets for best real estate websites. Joomla real Estate Template comes with Page Builder for layout, Shortcode for present content easily, Support Font Awesome and K2 extended style.Joomla real estate template free is fully customizable — any design aspect can be easily modified, e.g. visuals, typography, palette, etc. Well — organized content sections and thought - out navigation facilitate the search of necessary info. And go with a pack of extra features that make them great solutions for building professional projects. Your real estate website will be accessible from any browser and device so that visitors can view it from anywhere with an internet conection. This enables estate agents to reach tj reach the broadest possible audience for your properties. Take a closer look at the professional-looking,yet stylish themesto create the real property website of your dreams.

5. LT Real Estate — Free Joomla Real Estate template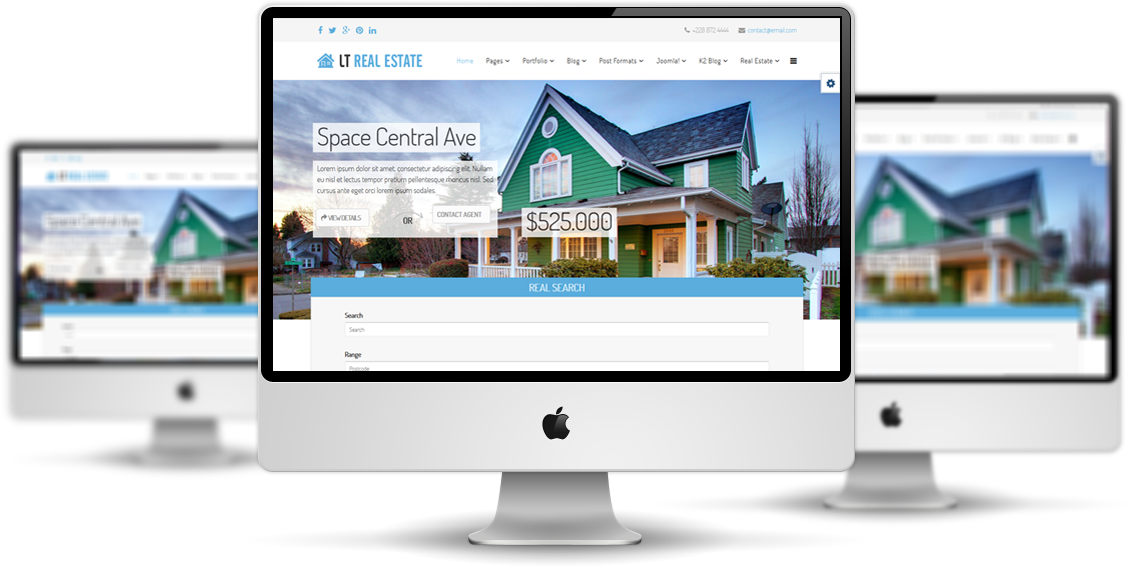 LT Real Estate is a Joomla Real Estate template which is intended to homes for sale or real estate agencies. It is developed on a powerful framework with 100% responsive layout (support for mobile devices) based on bootstrap, unlimited module position, strong shortcodes to edit content easily. Moreover, this template is entirely customizable, with 4 color schemes, drag-drop tools and color an amazing website with efortless. Check out the Live Demo to find more interesting stuff of LT Real Estate. Our templates developed with responsive layout for all kinds of mobile devices. Besides, 4 boxes layout and background are also supported, to assist you perform and choose layout for your website.

6. Real Estate
The real estate template is easy to use, includes 75 folding basic template positions plus 4 mobile positions. The user can confidently expect that these templates are equipped with all the necessary functions that are directly related to real estate for easy and convenient use. This template of real estate will be useful for real estate agents, real estate companies, real estate brokers and real estate agents.
Main features:
• Choose fluid or fixed template widhs
• Custom column, page and row widths
• 75 collapsible core template positions plus 4 mobile positions
• Mobile Deviced Support
• 3rd Party Styling Joomanager
• Google Fonts
• Custom Colors
• SEO Optimized
• Fixed Tabs
• Site Shaper available ( Joomla install that includes demo data)
• SQL dump available
• Sliced PSDs included
• Tool Tips enabled
• Validates with XHTML 1/0 Transitional
• Validates with CSS Level 3
• View Current Joomla vercions

7. JSN Realtor
Modern Joomla real estate template.JSN Realtor is the first-rate Joomla real estate template,a handy tool for any realtor business,and a prodigy of JoomlaShine and OS property. With many useful features built around a realtor business like advansed search, property showcase with custom fields, custom location, etc, JSN Realtor can be versatile and powerful as a real estate template.Suitable for any agents, property owners or sellers want to standout in the industry. JSN Realtor has fully responsive with modern design. Making your site display flawlessly on all devices. Visitors not only can check your property anytime, anywhere, but also be drawn into the freshness, and professional design of the template. Besides that, whith JSN Realtor, your site also can have: • Great UX/UI element with smooth interaction;
• Logical property showcase;
• Unique icon and design element only for real estate business;
• Beautiful content element, and module style for Joomla default features. The template works perfectly with OS Property. This extension not only provides you a complete and intuitive property management system but a great advertising solution through its display layout;
• Advanced search and filter:number of rooms, price range, amenities,and many more;
• Detalied property display: be able to show every needed information with logical layout, and great design • calculate mortgage, interest rate within site;
JSN Realtor will help you save significant time to develop a website with basic pages are carefully prebuilt. They are all prepared, and easy to customize thanks to JSN Page Builder 3- the most intuitive Joomla Drag&Drop Builder.
RELATED ARTICLES:
Real Estate Website Development
Best of Joomla 3.2 Real Estate templates
---
---
×
Thank you!
Will be posted after admin approval.