DesignO- API Driven Web-to-Print solution is now available on PrestaShop Marketplace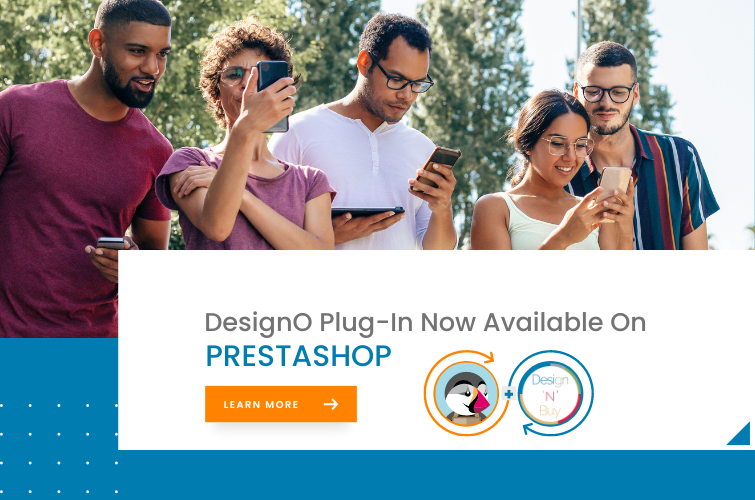 DesignO is a Web-to-print solution that is developed and designed by leading Web-to-print solutions provider Design'N'Buy. For online B2B and B2C businesses that wish to get a hassle-free plug-in for their e-commerce platform, an API-based web-to-print solution for e-commerce print stores is now available on PrestaShop Marketplace.
The purpose of this tool is to make the integration process seamless and quick for the non-technical PrestaShop store owners and empower them with an easy plug-and-play solution. The tool is designed to serve multiple business verticals that provide single or multi-page print solutions or deals in product personalization business.
Right from designing the marketing collaterals to designing personalized packaging, apparel, artwork creation, personalized merchandise, personalized gifting solutions and others. DesignO serves all these businesses with design automation and business process integration modules.
Understanding the increasing demand for personalized products and the entry of many traditional businesses into the e-commerce business, Design'N'Buy understood the need for a solution that can be easily integrated by these businesses.
Conventionally, integrating a web-to-print solution for personalized e-commerce platforms requires research, initial client approach, planning and decision-making processes along with other minute and numerous tasks and processes. While the process helps businesses get their desired configuration it also increases the turnaround time.
Thus, to ensure that PrestaShop businesses can get the solution easily and integrate it without any hassle, Design'N'Buy listed the solution on the PrestaShop Marketplace as an API-driven easy-to-install plug-in.
Making their solution available on the PrestaShop marketplace not only reduces the timeline, but it also gives the business the essential credibility and validation to the businesses. Moreover they don't have to migrate their business to any other ecommerce platform to enable print on demand business. Thus they don't lose their marketing efforts and search engine on existing site. Also, they can trust the solutions available on the platform's marketplace as each extension listed on the marketplace passes through stringent quality terms and is trusted by them.
As a part of the DesignO solution, businesses can pick and choose capabilities that they want to integrate with their PrestaShop store. But, keeping the solution universal, Design'N'Buy not only provides businesses with customization capabilities, the solution also provides the following capabilities to online businesses:
Capabilities that DesignO provides to online e-commerce businesses:
·         Businesses can manage multiple stores and businesses from a single intuitive platform.
·         Businesses can get and publish information in various local languages to integrate localization into their business.
·         Store owners can manage and get an insight into their pipeline from one single screen of the comprehensive job calendar.
·         The calendar also provides updates about every order with notifications
·         The tool also comes with chat assistance that can be used to communicate with teammates and do the necessary delegation of the task regarding orders in the pipeline.
·         DesignO provides customers the capability to design their own customized products from the scratch or place quick orders with the help of pre-designed templates.
·         The tool is equipped with many customization options such as logo, text, fonts and other artwork creation capabilities such as icons, images and clipart.
·         Once the artwork or product customization is done and order is placed, printers get print-ready file in desired format.
·         Customers can design personalized brand-centric marketing collaterals like banners, stickers, business cards and others
·         They can also customize products like Mugs, T-shirts, shoes and personalized merchandise such as packaging materials, photo albums and books.
Businesses that can capitalize DesignO tool:
·         Personalized merchandise and gift service providers
·         Commercial B2B print solutions
·         Product Designers
·         T-shirt/Apparel businesses
·         Marketing collateral designers and printers
·         Packaging print and solutions provider
·         Artwork design agencies
·         Graphic designers
To explore more about the features and functionalities of DesignO, businesses can visit the Design'N'Buy website and get in touch with their experts that can assist them in every step of the process. Businesses can also schedule a free demonstration to get a first-hand experience.
Visit for more information: https://www.designnbuy.com/

First originally published on Whattheythink Source: https://whattheythink.com/news/112115-designo-api-driven-web-print-solution-now-available-prestashop-marketplace/
---
---
×
Thank you!
Will be posted after admin approval.