Five ways to renovate your blogging website for more traffic and conversions
WordPress
Views: 936
Added Date: October 14, 2020
Appmysite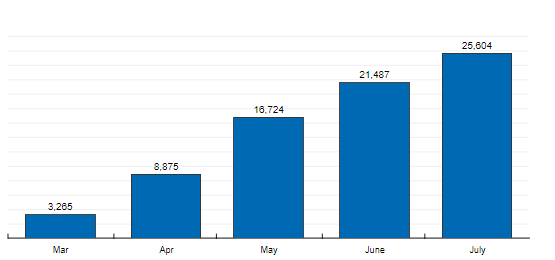 The popularity and significance of blogs is no mystery in the age of widespread internet consumption. It has become the ultimate tool for gathering information, solving problems, and even for entertainment.
In fact, it is not just content creators who are benefiting from blogs. Even eCommerce businesses and online service providers use blogs to connect well with their consumers and to empower their presence on the web.
Suggested Read: How to set up your e-commerce business with WordPress & WooCommerce - Complete guide
Due to the increase in content consumption via the internet, the popularity of website builders and online app creators is also growing.
However, if you are still not getting enough traffic on your blogs, then it may be because it needs a makeover. It is important that you keep scaling your website to align it with the latest trends and demands of the market.
So, today we are here to help you reinvent your blogging website. Do your own research and then implement the tips listed below as you execute your renovation strategy. Let us begin:
Follow the tips listed below and reinvent your blog website
Follow the execution strategy listed below and redefine your blogging website:
#1: Analyze your performance metrics
Re-working your website should not be about changing every little thing. In fact, you should not! Analyze the metrics that determine the performance and success of your website and classify your strengths and weaknesses.
Do not modify the things that are working in your favor. Try to capitalize on your strengths and work on your weaknesses. It will help you utilize your resources in a productive way and minimize losses.
#2: Redesign the aesthetical elements
The aesthetic elements are the first thing that catches the attention of your visitors. It is always a good idea to start making updates by redefining the visual contents of the website.
Try to work on the images, color choices, videos, action buttons, page layout, etc. Ensure that all the contents and theme choices complement each other and paint a coherent picture of the brand.
Suggested Read: The significance of colors in mobile app development and marketing
#3: Modify content for productive SEO
Once you have perfected the aesthetics, you can proceed to work on the textual and functional content on the website. Optimizing it for SEO (System Engine Optimization) with a fresh approach can work wonders for the ranking, visibility and traffic.
Enhance the content by conducting ample research and using the right tools. Pick relevant keywords, use alt text for images, and also write compelling content, meta descriptions and promotional copies. Post content regularly and try to interact with your readers as much as possible.
#4: Add conversion driven landing pages
Create special conversion driven landing pages that inspire people to commit to the desired action. Simplify the pages design and have a minimalistic approach.
The page should be focused on conveying the immediate goal to the users. Use clearly defined and well designed CTA buttons to make access easier for the visitors.
#5: Optimize website for mobile devices
The share and percentage of web traffic coming from mobile devices is increasing every day in leaps and bounds. In fact, with the proliferation of smartphones, more people are mobile websites and mobile apps to consume information and content.
Therefore, it is important that you optimize the website for mobile devices. In fact, you must also create an app and mark your brand presence in the mCommerce industry. Build apps for both Android and iOS users and empower your blogging business.
Suggested Read: How to optimize WordPress website for a better mobile app?
Build an app and grow your readership
That was all from our end today! Implement all the info you gained today and start afresh with a more competent and elegant blog.
Suggested Read: How to start a food blog - The complete guide with bonus tips for marketing
However, if you want to spike your success further, then we suggest that you complement your website with an app. Be in the blogging industry and offer a holistic solution to your customers.
Sign up for AppMySite free Android & iOS app builder and create a premium WordPress app. Make it easier for smartphone users to access your content and skyrocket your traffic and revenue. 
---
---
×
Thank you!
Will be posted after admin approval.