What are App Clips? How do they help promote iOS apps?
WordPress
Views: 803
Added Date: January 11, 2021
Appmysite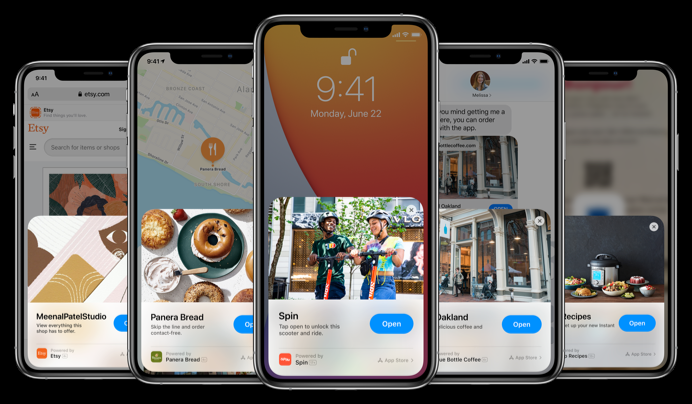 Going from normal digital marketing to mobile app marketing, you would notice one clear difference - it is difficult to sell people on a mobile app. 
Let's compare two cases. In the first case, you are promoting a landing page that is designed to generate leads through a contact form. All you need to do in this case is design a good landing page that explains the value proposition well. Visitors will enter their contact details in the form if your landing page informs visitors effectively. 
In the second case, you are promoting a mobile app. Your objective is to make people download your app. It is naturally difficult to immediately explain the value your app provides. Furthermore, you're asking users to go through the download process to redeem the value you're promising. 
Herein lies the main challenge of mobile app marketing. It is easy to provide value while promoting a webpage. Making someone download an app requires a lot more. We are at a stage where it is easier to create an app than market one thanks to app-making solutions like AppMySite. 
This is where App Clips come in. 
App Clips - The basics
How often do you sample ice cream flavours before ordering a scoop? App Clips essentially allow you to sample a specific feature of an app without actually downloading it. 
App Clips are a unique feature for iOS apps only. They are essentially small parts of an app designed to perform a specific function. 
You can perform a function using an App Clip without actually downloading the app. Let's assume you have a niche shopping app made with a WooCommerce Android & iOS app builder. You can let potential customers checkout your product range and make a purchase without actually downloading the app by offering them an App Clip. 
How can users access App Clips?
App Clips are easily accessible. Here are some of the ways you can enable your potential customers to access your App Clip-
● NFC tags - NFC (near field communication) tags refer to passive NFC devices that can connect with active NFC devices. The smartphones we use are the most common example of active NFC devices. You can make App Clips accessible with NFC tags by coding them into passive devices. You can then use your smartphone to establish a connection with an NFC tag directly from your launch screen.
● QR codes - Create a QR code that triggers access to the App Clip.
● Website banner - Create a Smart App Banner for App Clips. Your customer can access the App Clip by tapping on the banner.
● Messages - Send direct messages to your customers with a link to the App Clip.
● Cards on Maps - If your App Clip is location-specific, place a Card on the relevant map location. 
How do they help in marketing iOS apps?
The main challenge of mobile app marketing is selling people on a given app. App Clips provide users a glimpse of what the app offers without actually forcing them to download it. 
This effectively solves the main challenge of app marketing. By making App Clips available to your target audience, you can ensure a better conversion rate and higher app usage. 
The best part is that you can actually make the audience perform real actions such as making a purchase or using the app in general. 
This can prove especially useful when you are trying to increase sales numbers on your ecommerce app. App Clips allow people to make a purchase even if they don't have the app installed on their smartphone. You can also offer Apple Pay and Apple Sign-in options in an App Clip. 
In conclusion
App Clips are an underutilized feature. Anyone targeting Apple users should develop App Clips and market the app's features and products more effectively. 
Anyone using tools like AppMySite can convert WordPress website to Android & iOS app within minutes. Development is no longer a challenge. Marketing, on the other hand, still remains a tall order.
This piece provides key insights on the basics of App Clips and their role in enhancing mobile app marketing. You can start developing your own App Clips and promoting them through the various channels at your disposal. 
---
---
×
Thank you!
Will be posted after admin approval.