How to create and start blog
WordPress
Views: 1172
Added Date: March 29, 2019
ADD THEMES
Where and how to create and start blogging:
Create an image of expert
Share lifehacks from your business, and people will reach out to you. In future your followers or customers.
Better understand your audience
Share your story. A blog allows you to have a voice and be heard. A blog is a good opportunity not only to tell your story, but also to hear your readers in the comments. Their questions are new topics for articles.
Learn to highlight important things.
To write good texts, you need to carefully filter the information. You cannot post articles about every event or thought. Blogging is an ongoing process of selecting a topic.
Become a good writer
Text making is communication. You write down your thoughts and introduce them to readers. And they agree or not. As a result of this discussion arises. The more you practice, the better you get. Over time, this skill will spread to other texts: books, presentations, resumes or postcards.
Make money from home
Blogging can be quite lucrative if done correctly. The top bloggers in the world obviously earn quite a bit, but even a part-time blogger can expect to make a nice profit if things are done correctly. The best part about it is that blogging is a form of passive income, since you can spend just a few hours a week writing a blog post and then continue to make money from it long after the blog post is written.
How to Start a Blog in 6 simple steps:
This will take a several minute.
1. Choose a topic and blog name
2. Choose self-hosting or a free alternative for your blog
3. How to Set up a blog on your own domain
4. Design your new blog
5. Monetize blog
1. The first step choose your topic. What you were going to say.
Hobbies & passions. Hobbies or other interests you are passionate about are a great place to start. Cooking, travel, fashion, sports, and cars are all classic examples. But even blogs about more obscure hobbies can be successful, since the your audience is literally anyone in the world with the internet.
Life experiences. Everyone has lessons they have learned through life experience. Sharing this knowledge can be incredibly helpful to others in similar situations.
A personal blog. A personal blog is a blog all about you. This will include a variety of topics, from things you do on a daily basis, to random thoughts and musings. This is a great way to share you thoughts with the world without having to stick to just one topic.
Go for a blog name that is short, catchy and easy to remember. If you're running a sole trader business that is all about you, or if you're a writer and you want to promote your books. You may also want to think twice about using your personal name in the domain. It could make sense.
2. Self-hosting or a free alternative?
WordPress, Blogger, and Tumblr all offer free blogs for everyone.
But it does have downsides:
a) You won't be able to get your OWN domain name
On a free blog, your blog's web address will be butt-ugly.
Like this:
yourblogname.wordpress.com
yourblogname.blogspot.com
yourblogname.tumblr.com
b) Limits and more limits
You can't fully monetize it, and you don't have the possibility to upload all those videos and images you want to show everyone – it's all limited. Worse still, you won't even have access to the free themes offered by WordPress.
c) You DON'T OWN your blog
It might sound silly at first, but you don't actually own your blog. It's hosted on someone else's web property and they can delete it if they want to. They have done so in the past, and keep doing it in the future. Which means all your hard work on your blog, all those countless hours of writing blog posts might have vanished within seconds.
On the other hand, with a self-hosted blog on your own domain name – you are the REAL owner of your blog. You'll be able to name your blog whatever you want, for example, "YourName.com". You can end it like .com, .co.uk, .net, .org, etc. Add to that unlimited bandwidth for videos, images, and content plus the free themes and you have a winning combo.
So how much is hosting and a domain name? Not as much as you're thinking, fortunately. It usually works out to about $5 to $10 per month, depending on your hosting provider which is less than a couple of coffees.
Step 3: Find a web host
Consider an example Hostinger.com

When it comes to choosing a blog hosting platform, there are a few things to consider:
How much traffic do you expect?
How quick is the setup?
Is there support?
What features will you get to make your blog stand out?
What is the cost?
The cool thing is that you won't have to look far, as we have exactly what you're looking for!

One of the best places to launch your first website or blog, shared hosting can be compared to public transportation or a student dormitory.
It houses multiple websites within one physical server. All the resources (such as disk space, RAM, bandwidth) are shared among each site from a single pool.
However, the servers are neatly optimized and monitored around the clock to make sure every website is up and running in full throttle!
Here's what you need to know if you plan to start a blog on shared hosting:
| | |
| --- | --- |
| Pros | Cons |
| Affordable and easy to use. | You'll share server resources with others. |
| Uptime and server updates are handled by the host. | Limited configuration options. |
| 24/7 live customer support. | No root access. |
| Features 1-click blogging platform installation. |   |
Cloud Hosting

Catered towards business owners and larger projects, cloud hosting aims to provide the power of a virtual server while maintaining the simplicity of shared web hosting.
It's a solid and reliable platform to start a blog, as you'll have lots of resources to handle whatever traffic is coming your way.
In addition, all the resources are dedicated to you and no one else, thus you'll have plenty of room for growth.
| | |
| --- | --- |
| Pros | Cons |
| Dedicated resources and IP address. | Higher pricing compared to other solutions. |
| 24/7 live customer support. | Limited configuration options. |
| Resources fully dedicated to you. | No root access. |
| Features 1-click blogging platform installation. |   |
| Can seamlessly upgrade from shared hosting. |   |
VPS Hosting

VPS, short for a virtual private server, is a unique solution that brings more freedom and control to the table.
Though if you're not familiar with server management, this solution may be a bit tricky.
If you aim to start a simple blog only, picking another solution would be better.
But if you plan to get your hands dirty and launch many different projects, having a virtual server will let you set up the perfect environment.
| | |
| --- | --- |
| Pros | Cons |
| Grants root access. | Requires technical knowledge. |
| Dedicated IP and resources. | Server management skills are a must. |
| Offers the highest flexibility out of all solutions. | Unmanaged. |
| Gives you the most control. | Has a higher learning curve. |
| Ability to change any server-side settings. |   |

If it's the first time you start a blog, the budget might not be there yet. Heck, it may even take some time before you test the waters and figure out what works.
That's why we'll show you how to start a blog for free! Free hosting is the perfect testing ground for every new webmaster. And whenever you need more power, you can upgrade and seamlessly transfer your blog to our premium web hosting servers!
| | |
| --- | --- |
| Pros | Cons |
| Great testing environment. | Limited resources and disk space. |
| Easy to use. | No email service. |
| No setup cost. | No live support (community forum). |
Lets Set up the blogging platform

Once you have your web hosting and domain name ready, you're just one step away from reaching the goal.
Since we outlined three platforms to start your blog, let's see how to perform the initial setup with each one.
How to Start a Blog with WordPress
Since WordPress is so popular, let's see how to start a blog with it first.
Installation
Setting it up is quite simple. Especially if you're using Hostinger. All you have to do is navigate to the Auto Installer section in the control panel.

Select WordPress and follow our simple three-step setup wizard that will get the job done.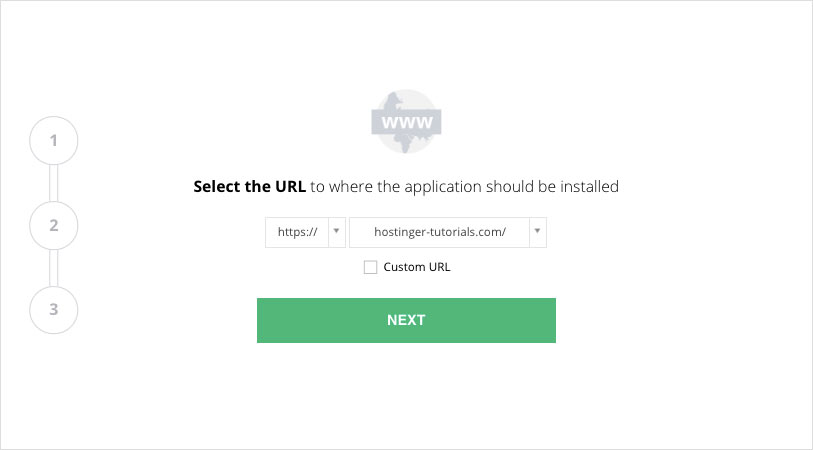 Admin Area
To make your blog management easy, WordPress provides an intuitive dashboard.
You can access it by typing yourdomain.com/wp-admin in the browser.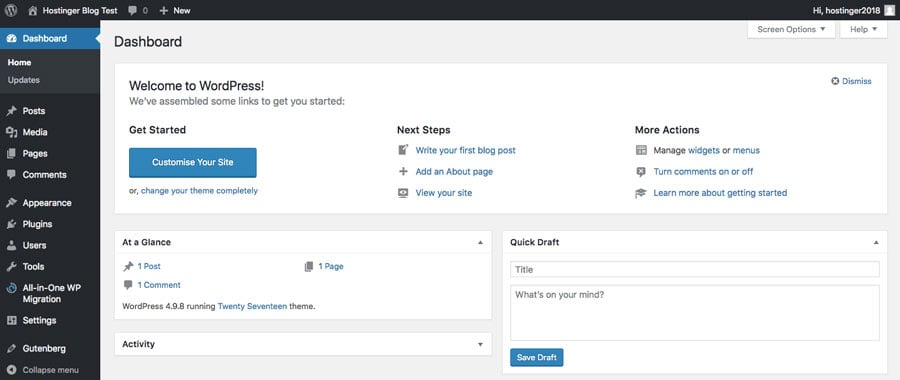 Themes
In the Appearance section, you can find many free themes and choose a stylish look.

If you have difficulty choosing, check out our collection of the best free WordPress themes.
Plugins
The Plugins section offers of a large library of free extensions. You can view them as add-ons that extend the functionality of your blog.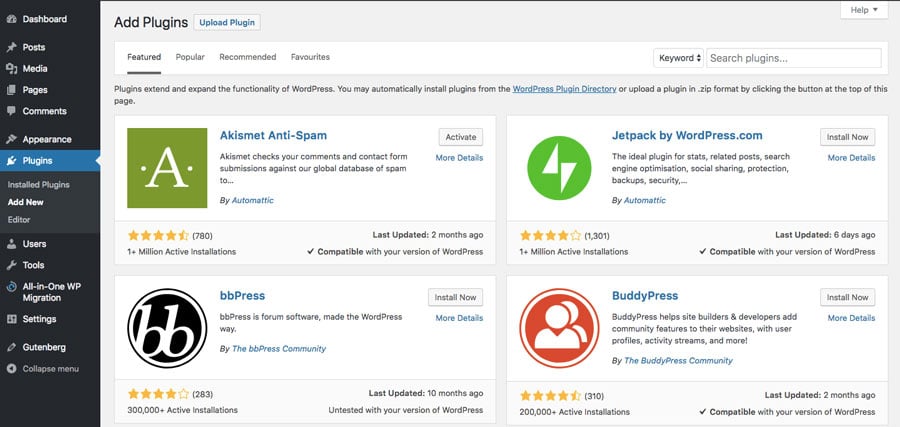 Oh, and did we mention? All of them are absolutely free!
Here is a list of 3 essential plugins that every blog must have:
Yoast SEO will let you optimize your posts much easier with the latest SEO practices.
Akismet Anti-Spam will keep your comment section clean and spam-free.
Jetpack offers a bundle of features related to security, performance, statistics and more!
Creating blog posts and pages
The Pages section does exactly what it says. You can use it to create more pages on your blog (such as About us; Contact us and similar)

Meanwhile, the Posts section will be your most visited area, as all new blog posts will be created there.

Here is how to make money from a blog: Set up your blog -Start creating useful content -Get off your blog and start finding readers -Build engagement with the readers that come -Start making money from the readership you have through one or more of a variety of income streams Once you have put in the effort of creating great blog content and promoting your blog, making money from your blog is actually the easy part. There are several ways you can make money blogging, from selling your own products or services, to getting paid to write reviews of products on your blog. But the easiest way to make money from your blog is to sell advertising space. Once you have a popular blog, advertisers will be hounding you for the opportunity to advertise. The best way to take advantage of this situation is to use Google Adsense. They find the advertisers for you and all you have to do is place the Google Adsense code on your blog to start running ads. Google Adsense takes all of the hard work out of the process and just cuts you a check.
Related Articles
---
---
×
Thank you!
Will be posted after admin approval.