TerraClassifieds 1.1 version brings new great features
WordPress
Views: 920
Added Date: February 08, 2019
PixelEmu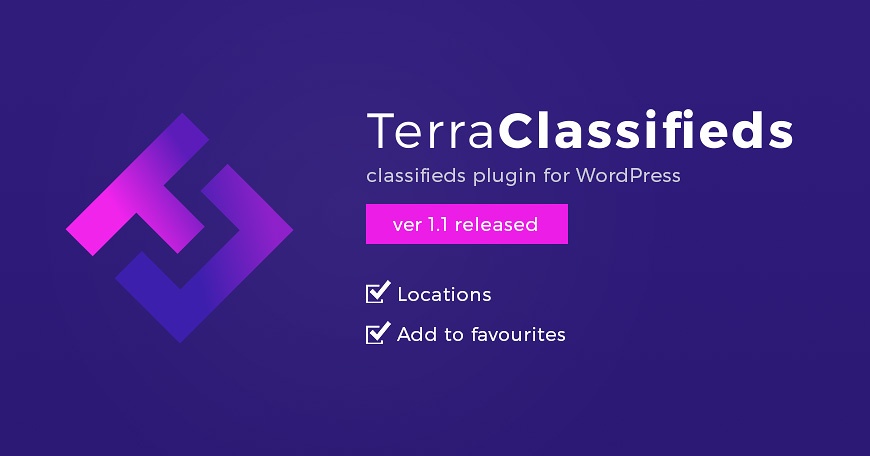 TerraClassifieds free WordPress classifieds plugin  was just updated to 1.1 version. This update brings new useful features and improvements.
Let's focus on them.
Locations
It's the main new feature added in TerraClassifieds 1.1 version. Location is manually filled from the WordPress admin panel. The introduction of this feature results in adding many new settings in various areas of the plugin. 
Thanks to the fact that the locations have been placed in the admin dashboard, the user can now choose a location from the search form.
Location is now also visible in the advert view. It's placed under the phone number in the default view. 
Users can choose the location during the single advert submission. 
The search can also be used in the category view.  Website admin can specify fields that will be visible in the search form. Also, it is possible to define the field size for various mobile devices. 
You can also specify a location view for the search widget. Use the search widget, which contains the same settings as mentioned earlier but allows you to use different inputs.
Add to favorites
The possibility of adding an advert to the list of favorites items was also implemented in the TerraClassifieds 1.1 version. 
This feature can be enabled in the plugin settings for advert view, category view, and latest ads widget as well. 
Browsing your favorite products can be done by selecting the appropriate position in the user's menu (Your favorite ads - for example).
Required fields on adding advert view
There are also new options in the adding advert view. We have added the possibility to specify whether location fields are required or not. You can also define whether images are required for a new advert (previously it was required by default).
New view for subcategories 
It's the new simple option.  
You can set the number of columns (for an extended category tree) and enable control over the subcategories appearance when adding the new advert. 
Other improvements 
In addition to the features listed, we've added some minor improvements and fixes that you can read about in the blog post.
TerraClassic free WordPress theme
Creating a Classifieds Website in WordPress is now easier than ever. Discover TerraClassic - the absolutely free classifieds WordPress theme, created to give you the fully complete online ads portal system. The classifieds featured are available thanks to the TerraClassifieds plugin implemented here.
The TerraClassifieds free classifieds plugin and TerraClassic theme can also be downloaded separately.
TerraClassic classifieds theme was updated along with the TerraClassifieds plugin.
---
---
×
Thank you!
Will be posted after admin approval.